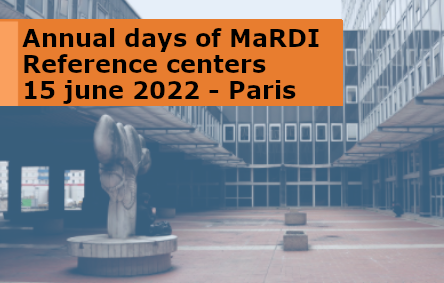 On Wednesday, June 15, 2022 will be held the annual days of the MaRDi reference center and the FIMATHO at the University of Medicine of Paris (Bichat site)
Wednesday 15 June morning: MaRDi reference cente and FIMATHO Annual days on the theme "the family"
Wednesday 15 June afternoon: Annual days of MaRDi reference center
The conference will be avaialbe by videoconference.


Program of the MaRDI-FIMATHO day on the theme of the family (in french): PDF link
Provisional program of the annual MaRDI day (Afternoon):
2-2:30 p.m. MaRDI News and updates : Jean-Pierre Hugot and Naim Drid, Paris
2:30-3:15 p.m. Projects being launched
Intestinal lymphangectasia (Stéphanie Willot)
Eosinophine gastroenteritis (Hélène Lengline)
Botryomycomas: descriptive multicenter study on the evolution according to the treatments (Lindi Adouane or Lelia Duclaux-Loras)
Baths, swimming and central venous catheters (D Guimber, Lille)
MaRDi collaborative project to build an e-training site for the prescription of parenteral nutrition (Marie Edith Coste)
Living with an NAD (Manon Picchi, La Vie par un Fil and POIC Association

).

Crohn's without relapse (JP Hugot Paris, face-to-face)
3:15-3:35 p.m.:
Genetic RCPs State of the platforms (John Rendu, Grenoble)
A new POIC gene (Fabienne Charbit-Henrion, Paris)
From genetics to clinical practice (Emmanuelle Dugelay, Paris)
3:35 p.m.-4 p.m.: Break
4-5.30 p.m.: Work in progress and news.
Immaturity of digestive smooth muscle and visceral myopathies (Pascal de santa Barbara, Montpellier)
Supply of central KTs (Eric Desruennes, Lille)
Reinstallation of Chyme (Sabrina Layec (Rennes, video) and Emmanuelle Dugelay (Paris)
Digital ETP/NPAD tool: Cards of the unexpected (Florence Liebert, Paris).
Indications and success of intestinal transplantation in 2022 (Florence Lacaille, Paris)
eNPAD (Shemine Asmina, LHF hope association)
Interested parties may attend for free following this link (the registration is mandatory In french)