Eating is a vital need, a social act, a shared pleasure as well as an awakening of all senses. However, for some children, mealtimes are difficult moments, which may sometimes become a nightmare.
Oral feeding difficulties impact many children with or without associated pathologies.
Some of these clinical signs may suggest an oral feeding difficulty: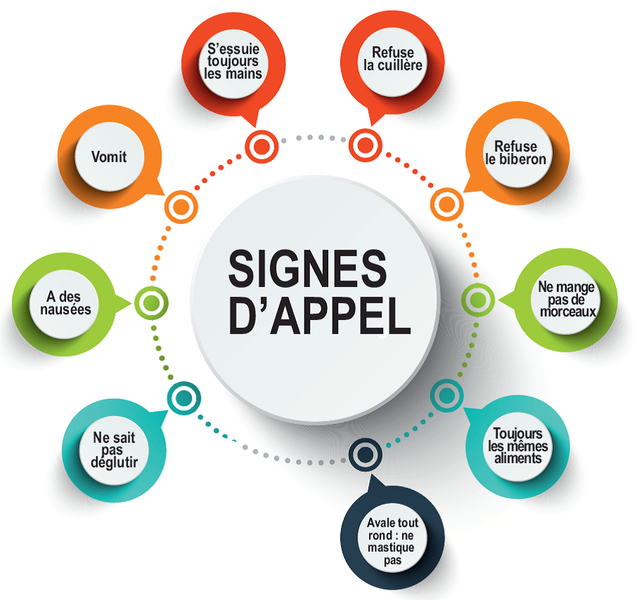 These signs may appear in isolation or as a group in a child. These must be analysed during a clinical exam. As soon as you observe them, speak with your physician, who will guide you if necessary to a specialised professional (speech therapist, psychomotor specialist, ergotherapist, psychologist, etc.). Thanks to multidisciplinary work, oral feeding difficulties can be better treated.
Some children are more at risk regarding the development of oral feeding difficulties. That is the case for patients suffering from abdominal and thoracic malformations.
In fact, they share the need for neonatal surgery, care and hospitalisation during the first few months of life, which is such an important period for the development of oral feeding skills. A great number of children undergoing treatment will benefit from artificial feeding for a more or less long period of time, as well as vital yet invasive care around the mouth.
These life conditions make it difficult to develop the psychomotor and sensory skills essential for oral feeding. Difficulties in associating the oral sphere as a source of pleasure are observed, and they have an impact on the entire development of feeding stages in children and on their overall development. This translates into long meals, which are experienced as painful and difficult, because perceived sensations are negative and sometimes even irritating.